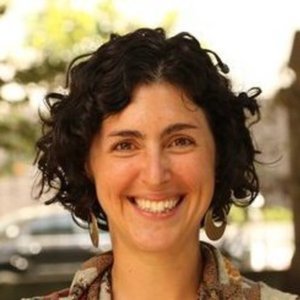 Rabbi Adina Allen
Special guest
Rabbi Adina Allen, co-founder and creative director of the Jewish Studio Project, is a spiritual leader, writer and educator who believes in power of creativity to revitalize our lives and transform Jewish tradition. Integrating a lifetime of experience in the expressive arts with her rabbinic training, Adina has taught clergy, educators and lay leaders in hundreds of Jewish communal institutions across the country. Adina's writing is widely published and her original research on using creative process to generate contemporary midrash was published in the CCAR Journal in 2013. She is a recipient of the Covenant Foundation's 2018 Pomegranate Prize for emerging Jewish Educators and is a fellow of the Open Dor Project for spiritual Jewish entrepreneurs. Adina was ordained in Hebrew College's pluralistic training program in Boston in 2014 where she was a Wexner Graduate Fellow.
Rabbi Adina Allen has been a guest on 1 episode.
August 10th, 2020 | Season 1 | 35 mins 36 secs

Making art is either for children or acclaimed artists, right? Not if Rabbi Adina Allen has anything to say about it. Allen is the co-founder of the Jewish Studio Project and daughter of a pioneering therapist. In this episode, Allen makes the case that engaging in a creative process is something that adults not only can do, but should do. Art-making, she explains, can be a tool for emotional regulation. It's also a tool for spiritual exploration, engaging Jewish texts and community, and getting in touch with the place inside oneself that leads an individual to make a better world.