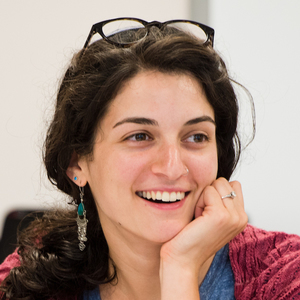 Bec Richman
Special guest
Rabbi Rebecca (Bec) Richman (she/her) is the Assistant Rabbi and Beit Midrash Director at Germantown Jewish Centre in Philadelphia and the Founding Director of the West Philadelphia Art Beit Midrash. A graduate of the Reconstructionist Rabbinical College and the Wexner Graduate Fellowship, Bec trained as a campus rabbi at Brandeis University completed a unit of Clinical Pastoral Education at the Hospital of the University of Pennsylvania, and participated in T'ruah's Year in Israel Fellowship. As a Jewish Studio Project Fellow, Bec integrates Jewish learning and creative practice. In addition to her rabbinic work, Bec is a soferet (scribe), Hebrew calligrapher, ceramicist and mikveh shomeret. Bec lives with her partner and their sweet kiddo in sunny West Philadelphia.
Bec Richman has been a guest on 2 episodes.
April 28th, 2021 | Season 1 | 43 mins 28 secs

We talk with Rabbi Rebecca Richman of Philadelphia's Germantown Jewish Centre about environmental justice and the legacy of environmental racism, particularly focusing on her adopted hometown of Philadelpha, whose refinery – which recently made national headlines with a massive conflagration – has harmed Black and brown residents' health for decades. She addresses how the Torah can help us conceive of environmental justice and identify environmental racism. And in an emotional segment, we discuss parenthood in a world that seems spinning out of control. "As a parent...if I don't take care of this place today, then there is no life for my children. And, if I don't teach my children to take care of this place, then there will be no capacity for them to have children."

February 13th, 2019 | Season 0 | 50 mins 40 secs

What does social entrepreneurship look like in a Jewish context? How can concepts honed in a business context be employed in a spiritual fashion? And can the beit midrash, the traditional Jewish house of study, be reinvented for a new generation of spiritual seeker and Jewish learner? Bryan and Rachael raise these questions and others with guests Cyd Weissman, Reconstructing Judaism's assistant vice president for innovation and impact, and rabbinical student Bec Richman. Cyd, who also teaches entrepreneurism, delves into the basic principles and how it is embodied in a grant program she administers. One thing she teaches is for entrepreneurs to "leave solutions at the door" and learn what "customers" actually want and need. Bec, a serial social entrepreneur who looks to Cyd as a mentor, discusses the process behind launching a new beit midrash geared for learners at different levels.