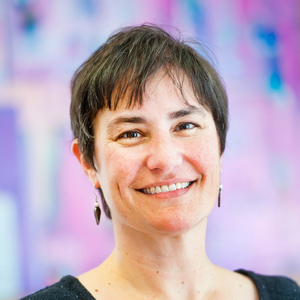 Rabbi Deborah Waxman, Ph.D.
Special guest
The first woman rabbi to head a Jewish congregational union and a Jewish seminary, Rabbi Deborah Waxman, Ph.D., became president of the organization now known as Reconstructing Judaism in 2014. Since then, as president and CEO, she has drawn on her training as a rabbi and historian to be the Reconstructionist movement's leading voice in the public square.
Rabbi Deborah Waxman, Ph.D. has been a guest on 3 episodes.
December 29th, 2021 | Season 1 | 1 hr 3 mins

In this special episode celebrating the career of our podcast's executive producer, Rabbi Jacob Staub, Ph.D., guest host Rabbi Deborah Waxman, Ph.D., president and CEO of Reconstructing Judaism, traces how Jacob went from being a secular college student, intent on pursuing a literary life, to one of the most influential Reconstructionist thinkers, writers and teachers of the past 50 years.

May 27th, 2021 | Season 1 | 33 mins 28 secs

The first American bat mitzvah took place on March 18, 1922. As its 100th anniversary nears, we've got something of a departure for our podcast. We're running an episode of Adventures in Jewish Studies, a podcast of the Association for Jewish Studies. Evolve: Groundbreaking Jewish Conversations co-sponsored this episode. Guest scholars Rabbi Carole Balin, Melissa R. Klapper, and Rabbi Deborah Waxman consider the history of the bat mitzvah and its evolution over time. They also explore how the bat mitzvah helped pave the way for greater inclusion of women in public Jewish ritual and practice and helped shape American Jewish life.

September 26th, 2018 | Season 0 | 50 mins 53 secs

Rabbi Deborah Waxman, Ph.D., president of Reconstructing Judaism, and Rabbi Nathan Kamesar, associate rabbi of Society Hill Synagogue in Philadelphia, discuss the ubiquity of technology and the opportunities and challenges they bring to Judaism.