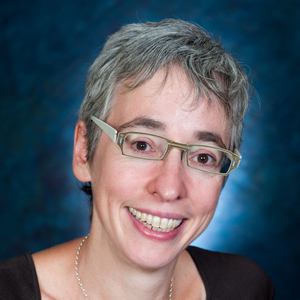 Elsie Stern
Special guest
Elsie Stern, Ph.D., is vice president for academic affairs at the Reconstructionist Rabbinical College and a Bible scholar. Stern brings a dynamic approach to RRC's top academic post; her scholarly acumen and administrative leadership drive our impact both within the Reconstructionist movement and on the North American Jewish landscape. For Stern, the horizon of our academic mission lies beyond training rabbis. She aims to create resources for the entire Reconstructionist movement — RRC graduates, lay leadership, congregants— as well as for the many other people who can benefit from a Reconstructionist approach to Jewish living.
Stern is a member of the president's cabinet and provides leadership to faculty and to students. She sets the tone of day-to-day academic life at the college. In addition, she serves as a key public spokesperson and as an ambassador; she travels to affiliated congregations, meets with leaders of other rabbinical seminaries and Jewish professional training programs, and speaks publicly to a broad array of audiences, including journalists, peers and prospective rabbis.
Stern is a vibrant biblical scholar whose teaching, often focused on social justice issues, is prized by many students. She moves into the vice presidency having served as associate professor of Bible at RRC since 2012. She was an assistant professor in the Department of Theology at Fordham University, where she taught Bible and Jewish studies, and she served as the assistant director for public programs at the University of Pennsylvania's Center for Advanced Judaic Studies. She has taught widely in both formal and informal educational settings in the United States and abroad and has written curricula on a wide range of topics. Her current research focuses on the transmission and reception of biblical texts in early Jewish settings. She is particularly interested in the ways in which the Torah that is transmitted by rabbis and teachers, and received by Jewish audiences, is and always has been far more expansive and variegated than the written texts themselves.
Stern received her Bachelor of Arts from Yale University and her Master of Arts and doctorate from the University of Chicago. She is the author of From Rebuke to Consolation: Bible, Exegesis and Ritual in the Literature of the Tisha b'Av Season (Brown Judaic Series, 2004) and is a contributor to the Jewish Study Bible and The Torah: A Women's Commentary (Women of Reform Judaism, 2008).
Elsie Stern has been a guest on 1 episode.
February 26th, 2019 | Season 0 | 50 mins 6 secs

Bryan and Rachael sit down with Elsie Stern, Ph.D, vice president for academic affairs at the Reconstructionist Rabbinical College. Stern, who is the daughter, granddaughter, sister and sister-in-law of rabbis, discusses her surprisingly circuitous route to leading a rabbinic training program. Stern explains that rabbis are formed rather than made, and that while some methods to training rabbis are constant, others are being reimagined. Stern also recounts her fascination with the Bible, how it's been transmitted through the ages and how it is taught and understood in Jewish settings today.