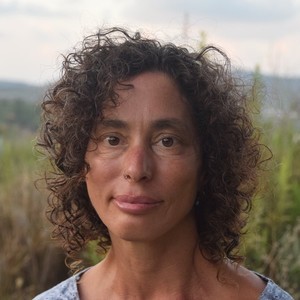 Rabbi Haviva Ner-David
Special guest
Haviva Ner-David was ordained privately in 2005 by Rabbi Aryeh Strikovsky, an Orthodox rabbi in Jerusalem, and then again in 2016 at One Spirit Interfaith Seminary in NYC, where she studied in both the ministry and spiritual counseling programs. Haviva is also trained in dream work and nature soul retrieval work. A strong believer in following the heart and living from the soul to create one's unique spiritual journey, Haviva counsels individuals and couples, including but not only many rabbis and rabbinical students.
Calling herself a post-denominational inter-spiritual rabbi, her specialty is in mikveh and spiritual counseling – often, but not always, combining the two. She is the founding rabbi of Shmaya: A Mikveh for Mind, Body and Soul on Kibbutz Hannaton, where she lives with her life partner, Jacob, and their children. Haviva wrote her doctoral dissertation on the changing understandings of mikveh and nidah from the time of the TaNaKH until the present, and she is proud to consider as her pulpit the only human-built mikveh in Israel that offers ritual immersion to everyone in the way they see fit to immerse. At Shmaya, she provides educational and experiential mikveh experiences to visiting groups and accompanies individuals in ritual immersions, often helping them — through the use of her spiritual counseling skills and mikveh knowledge — create their own unique ceremonies or kavanot (holy intentions) for their immersions.
Haviva is the author of two published memoirs: Life on the Fringes: A Feminist Journey Towards Traditional Rabbinic Ordination, and Chanah's Voice: A Rabbi Struggles with Gender, Commandment, and the Women's Rituals of Baking, Bathing and Brightening, as well as the forthcoming Getting (and Staying) Married Jewishly: Preparing for your Life Together with Ancient and Modern Wisdom, and Dreaming against the Current: A Rabbi Soul Journey. Her debut novel, Hope Valley, about the friendship between a Palestinian-Israeli woman and a Jewish-Israeli woman who live in the Galilee, will be out in the spring.
Haviva currently focuses her sacred activist work on promoting co-existence among Palestinian-Israelis and Jewish-Israelis, especially in the Galilee, where she lives. Her younger children study in the Hand-and-Hand bi-lingual (Arabic and Hebrew) school half an hour from her kibbutz, and she is involved in a narrative-sharing group where Palestinians and Jews are invited to share their personal stories in a circle of sacred listening. As well as being a mother of seven children (six biological and one adopted), Haviva lives with a genetic degenerative neuromuscular disease that has been both one of the biggest challenges and blessings of her life.
Rabbi Haviva Ner-David has been a guest on 1 episode.
September 8th, 2020 | Season 1 | 45 mins 12 secs

Rabbi Haviva Ner-David, an Orthodox feminist turned "post-denominational, interspiritual rabbi", says that dreams have long been neglected in mainstream Jewish practice. In this interview, she discusses how dreams offer each of us a tool to better understand ourselves and our world – if only we know how to use it.