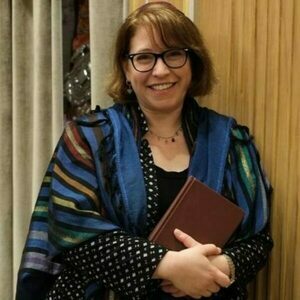 Rabbi Lauren Grabelle Herrmann
Special guest
Rabbi Lauren Grabelle Herrmann is the rabbi of SAJ-Judaism that Stands for All, the first Reconstructionist synagogue in America. She is passionate about bringing voices from the margins into the center in Jewish life and integrating Jewish spirituality and social justice. She is a proud alumna of JOIN, the Jewish Organizing Initiative & Network, and is actively involved with issues of racial and economic justice, including housing and homelessness, immigrant rights and reproductive justice, as well as being an advocate for LGBTQ youth and those experiencing mental illness. In 2017, Rabbi Lauren organized the "Yes to Love, No to Hate: Interfaith Solidarity, Hope and Action" in response to the white supremacist march in Charlottesville, VA that gathered over 600 New Yorkers and brought together over 70 sponsoring organizations. In 2020, Rabbi Lauren organized fellow clergy to stand with the men of the Lucerne, a group of houseless men sheltered in an Upper West Side hotel during the pandemic who were unjustly targeted for removal from the neighborhood. She was recently named one of the "Faith Power 100: New York's Most Influential Religious Leaders" by City and State NY. Her sermons and writings have been published in several anthologies and on Ritualwell, and she recently wrote the chapter "Social Justice" in Warm and Welcoming: How the Jewish Community Can Become Truly Diverse and Inclusive in the 21st Century (2022). She was recently named one of the "Faith Power 100: New York's Most Influential Religious Leaders" by City and State NY. Before coming to New York, Rabbi Lauren was the founding rabbi of Kol Tzedek Synagogue in Philadelphia and a founding member of POWER, Philadelphians to Witness, Empower and Rebuild.
Rabbi Lauren Grabelle Herrmann has been a guest on 1 episode.
April 28th, 2023 | Season 1 | 1 hr 1 min

anxiety, depression, mental health, neurodivergent, stigma, suicide, suicide prevention

Though Rabbi Lauren Grabelle Herrmann's son, Mint, had faced anxiety and depression before, his cry for help was as alarming as it was unexpected. The teen was thinking about ending his life. Yet by going to his parents, Mint was able, ultimately, to get the help he needed. In this expansive interview, Rabbi Herrmann shares this most personal of stories to make a larger point: there's an ongoing stigma around mental illness. As long as the stigma pervades, people's lives are at risk.