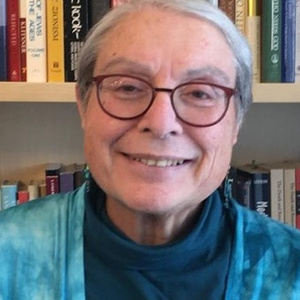 Rabbi Leila Gal Berner
Special guest
Rabbi Leila Gal Berner was born in San Francisco in 1950. Raised in a Labor Zionist household, Berner understood the need to support the people and the State of Israel and immigrated to Israel in 1967, on the eve of the Six Day War. Berner lived on a kibbutz for two years and received her undergraduate education at the Hebrew University of Jerusalem with B.A. degrees in History and English Literature. Berner also trained as an Israel Government Licensed Tourist Guide, during which she gained a deep knowledge and visceral love for the Land of Israel, its natural beauty, its archaeology and the ancient roots of all the peoples who dwell there. Today, she is actively involved in the quest for peace and justice in the Middle East and is a supporter of Rabbis for Human Rights and like-minded groups.
After a decade in Israel, Berner returned to the United States to pursue graduate studies. In 1986, she received a Ph.D. in History from the University of California at Los Angeles (UCLA) with a specialization in the Jews of Medieval Spain. Berner has taught at Reed, Swarthmore and the Reconstructionist Rabbinical Colleges and at Emory, American and George Washington Universities. In 1989, Berner was ordained at the Reconstructionist Rabbinical College (RRC) and has served congregations in Pennsylvania, Georgia, Washington D.C. and Virginia. Rabbi Berner was also the Founding Director of the Center for Jewish Ethics at RRC.
Rabbi Berner has served two LGBT congregations: Bet Haverim in Atlanta, Georgia and Congregation Bet Mishpachah in Washington, D.C. and she was one of the first lesbian rabbis to "come out" (in 1992) in a 'mainstream' congregation, Beth Israel in Media, Pennsylvania. Rabbi Berner taught for a decade as a Scholar-in-Residence in the Department of Philosophy and Religion at American University in Washington, DC and is now Rabbi Emerita of Kol Ami: The Northern Virginia Reconstructionist Community in Arlington, Virginia, where she was founding rabbi in 2000. In January, 2012. Rabbi Berner was appointed Dean of Students for the ALEPH Alliance for Jewish Renewal Ordination Program, a seminary without walls that ordains rabbis, rabbinic pastors and cantors. She still serves in this capacity in 2021.
Rabbi Leila Gal Berner has been a guest on 1 episode.
August 17th, 2021 | Season 1 | 1 hr 2 mins

conversation, conversion, interview, jewish, judiasm

In the past few decades, descendants of Jews who had been forced to flee, convert, or hide Jewish practices during the Inquisition have been seeking to reconnect with Jewish communities. At times, they have been embraced, other times shunned, and, too often, encountered Jewish experiences that didn't authentically reflect their Sephardic roots.