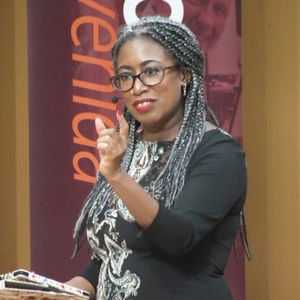 Rev. Wil Gafney, Ph.D.
Special guest
Womanist biblical scholar, the Rev. Wil Gafney, Ph.D., is the Right Rev. Sam B. Hulsey Professor of Hebrew Bible at Brite Divinity School in Fort Worth, Texas. She is the author of Womanist Midrash: A Reintroduction to Women of the Torah; The Throne, a commentary on Nahum, Habakkuk and Zephaniah in the Wisdom series; Daughters of Miriam: Women Prophets in Ancient Israel; and co-editor of The Peoples' Bible and The Peoples' Companion to the Bible. She is also the author of a Women's Lectionary for the Whole Church and translator of its biblical selections. She is currently writing a second volume of Womanist Midrash focusing on women in the Prophets. She is an Episcopal priest canonically resident in the Diocese of Pennsylvania and licensed in the Diocese of North Texas, as well as a former Army chaplain and congregational pastor in the AME Zion Church. A former member of the Dorshei Derekh Reconstructionist Minyan of the Germantown Jewish Centre in Philadelphia, she has co-taught courses with and for the Reconstructionist Rabbinical College in Wyncote, Pa.
Rev. Wil Gafney, Ph.D. has been a guest on 1 episode.
September 14th, 2022 | Season 1 | 54 mins 34 secs

high holidays, kyrie, kyrie irving, nba, rosh hashanah, whitewashing, yom kippur

From the time she was a young girl, Rev. Wil Gafney noticed that every major biblical figure, in both art and popular culture, was represented as white. Now a scholar and Episcopal priest, Gafney paints a more accurate picture of our Afro-Asiatic forebearers, making a case that engaging with the racist history of biblical criticism and western art is key to forging a more just future.