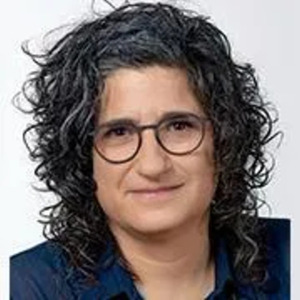 Dr. Yofi Tirosh
Special guest
Dr. Yofi Tirosh is an Associate Professor, and the former Dean of the Sapir Academic College School of Law in Israel's south (Negev) region. She is interested in antidiscrimination law, civil rights, feminist jurisprudence, law and culture, and food law. Recently her research focuses on the effects and the legality of sex-segregation in Israel. Another theme in her scholarship is the ways in which the body and physical appearance are understood, regulated and constructed by the law.
Among other distinctions, Tirosh is the 2018 recipient of Israel's Public Law Association's Gorni Award for her contribution to the field, and the Katan award for enhancement of gender equality through research, teaching, and activism. In 2018 she was awarded a $70,000 research grant for a project on anti-discrimination law and theory from Israel's National Science Foundation.
Tirosh joined the Tel Aviv Faculty of Law in 2008. She completed her LL.M. and S.J.D. at the University of Michigan Law School, where she was a fellow at Michigan's Institute for the Humanities. After completing her LL.B from the Hebrew University of Jerusalem, she clerked for Israel's Supreme Court. She served as a research fellow at New York University School of Law and at Humboldt University in Berlin, and as a Visiting Professor at Georgetown Law Center, Queen's University Faculty of Law in Ontario, and more.
Alongside her research, teaching, and academic leadership, Tirosh is a prominent civil rights activist, working with policymakers and civil society organizations, and consulting pro bono on impact lawyering to promote sex equality. She is a frequent contributor of legal analysis to national and international media. She has been leading a potentially precedent setting petition to the High Court of Justice, challenging the constitutionality of sex segregation in academic programs for religious and ultra-Orthodox students. Tirosh was listed as one of Israel's 100 most influential people by TheMarker, Haaretz's financial magazine (2019).
Dr. Yofi Tirosh has been a guest on 1 episode.
January 31st, 2023 | Season 1 | 57 mins 19 secs

coalition, israel, judaism, netanyahu, politics, ultra orthodox

According to our guests, Israeli legal scholars and activists Gila Stopler and Yofi Tirosh, this is a moment of crisis for Israel. They detail how the sudden, dramatic drop in women represented in government is shaping an agenda that could dramatically curtail women's rights. Can the legal system — itself under assault — or popular protests prevent the worst fears from occurring?