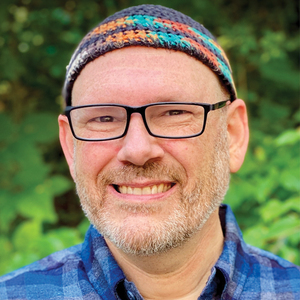 Rabbi Maurice Harris
Special guest
Ordained by the Reconstructionist Rabbinical College in 2003, Rabbi Maurice Harris served as Associate Rabbi and Head of School at Temple Beth Israel in Eugene, Oregon, from 2003 – 2011. He has also worked as a Judaic studies faculty member at the University of Oregon, teaching courses such as "Israelis and Palestinians" and "American Jewish Cultures." Just prior to joining the staff at RRC, Maurice worked as the Rabbi/Senior Educator at InterfaithFamily, a Boston-based national Jewish non-profit that provides resources and advocacy for interfaith families in the Jewish community. He is the author of two books, Moses: A Stranger Among Us and Leviticus: You Have No Idea (Cascade Books, 2012 and 2013), and has a third one on the way.
Maurice is now working as Associate Director of Affiliate Support at Reconstructing Judaism. He is married to Melissa Crabbe, and they have two children, Clarice Harris and Hunter Harris.
Rabbi Maurice Harris has been a guest on 2 episodes.
February 15th, 2022 | Season 1 | 1 hr 11 mins

When Ben & Jerry's announced last year that it would cease selling its products in the Occupied Territories, it touched off a brouhaha that lasted months. Rabbi Maurice Harris, Reconstructing Judaism's lead staff member on Israel affairs, explains why this story garnered such attention and what he thinks it all means. He also delves into a recent Amnesty International report accusing Israel of Apartheid and narrates Reconstructing Judaism's response, both in terms of process and substance.

February 19th, 2018 | Season 0 | 48 mins 33 secs

Taking a page from the Judaism Unbound podcast, Rachael and Bryan ask the questions: What does Judaism do and what it is for? What does it do for those who don't feel compelled by God to live life according to Jewish law? Rabbi Maurice Harris fields these questions, and also explains why he avoids "outing" himself as a rabbi while he's a passenger on a commercial flight.